While professional manicures are unrivaled, many of the best manicure kits include various expert-level tools for smoothing jagged edges and cuticles, pushing back natural nails, and even removing sticky gel lacquer. Whether you need a fast clean-up to get rid of errant hangnails or the more comprehensive kit for a complete manicure makeover, these convenient kits from big brands are the next best possible thing to going to the salon.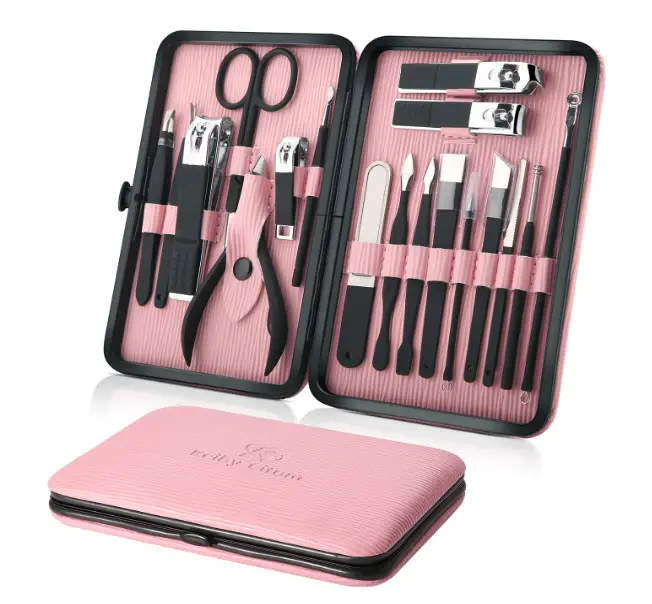 What Is A Manicure Set?
A manicure set is a collection of small tools for trimming and straightening the nails. While many manicure tools may do the work, having a manicure set on hand will only add to your convenience. When your fingernails are in frantic need of some TLC, but you're short on time, all hope is not lost. Investing in a high-quality manicure kit is the simplest method to improve your at-home nail regimen. The most straightforward approach to upgrading your supplies is getting a kit that includes all you could ever need.
What Are The Items In A Manicure Set?
A manicure kit should include the following essential items to offer your hands a salon-like treatment at home:
Nail Cutter
A nail cutter is essential for a manicure or pedicure. Your nails are one of the dirtiest regions of your body and a potential source of bacteria. If you want to keep your general health, you should trim them occasionally. It's recommended to maintain them trimmed at all times to avoid illnesses from spreading.
Little Scissors
Cuticle scissors are the teeny-tiny scissors included in manicure kits; however, you should not use them to trim your cuticles. These scissors can help trim nails or cuticles, but they're also handy for little cutting jobs like removing tags from clothes or snipping a stray thread.
Cuticle Pusher
Cuticles require specific attention to avoid becoming dry and flaky. The skin around your nails is pushed back and away with a cuticle pusher. It's better to use a steel cuticle pusher if you have thick, firm skin. Use a wooden cuticle pusher if your cuticles are soft.
Cuticle Nipper
Cuticle nippers are tools for removing hangnails, hard cuticles, and dry skin surrounding the nails. It allows you to access those hard-to-reach places and cut those pesky ingrown nails with fantastic precision. It also makes it possible to remove unnecessary soft tissue surrounding your nails with care.
Nail Buffer
Use a nail buffer to restore gloss to your nails if they have become dull. Smoothing down any dry bumps or flaking on your nails also helps to eradicate them. This tool's primary function is to polish your fingernails and give them a uniform appearance.
Nail File
This tool helps gently file down the sides of your nails, smoothing them out and assisting in their shape. Nail files come in multiple shapes and sizes, with emery boards and essential metal files being the most prevalent. Emery boards are preferable since they are softer.
Nail Brush
Nail brushes help clean the nails thoroughly. You may also use them to clean the nails of stubborn stains or grime. You may apply this regularly if you want your fingernails to look as tidy as possible.
The other tools you can find in manicure sets are the following:
Orangewood Stick
Mild Scrub
Callus Remover
Cuticle oil/ Olive oil
Hand Cream
Nail Polish (optional)
Benefits Of Having A Manicure Set
Saving money by purchasing a manicure kit is an excellent method to do so. You may save time and money by doing your fingernails yourself rather than having them done professionally. 
A regular trip to the nail parlor is required to keep your nails looking fresh. A manicure kit allows you to maintain professional-level nail care at home.
The main advantage of acquiring the kit is that it comes with high-quality equipment.
Manicure sets are frequently kept in a pocketbook, purse, or box. Keeping the tool in position usually contains a groove or an elastic strap. It enables you to keep the complete manicure kit together, so you don't lose any materials and can receive a hassle-free manicure whenever you want.
Manicure kits are available in various sizes, and you may choose the one that best suits your needs. You can get a tiny manicure kit if you don't have much space in your house or if you want to take the set with you. 
If you prefer the spa feel and often spread out all of your equipment and spend the evening working your nails, you may want to invest in a manicure kit that you can leave out in your bathroom with all of the instruments visible for easy access.
What Is A Dead Skin Fork?
A dead skin fork is an instrument that helps remove dead skin from the areas surrounding the nails. These forks are made of high-quality stainless steel and are corrosion-resistant and long-lasting. It may have a dual-end pusher for both pressing and cutting the cuticle. The blade scrapes away at the tough-to-remove residual skin residue on the nail, and it's also helpful in eliminating adhesive when using artificial nails.
What Is A Cuticle Nipper?
A cuticle nipper is a tiny instrument for trimming or cutting back the cuticles of fingernails and toes. These instruments are generally composed of rigid metal like stainless steel. They have a two-pronged grip that fits comfortably in the palm of the hand. A metal jaw with sharp edges sits at the end of the cuticle nipper, designed to grip and chop away extra skin surrounding the cuticle. The Cuticle Nippers' compact stainless steel head is ideal for accurate clipping of ingrown nails. Nail technicians commonly use cuticle nippers for the feet and hands during spa services.
What Are The Little Scissors In Nail Kits For?
Cuticle scissors are the teeny-tiny scissors included in manicure kits; however, you cannot use them to trim your cuticles. Nail scissors are tiny scissors with a maximum length of three to four inches. They're generally composed of stainless steel and have blades that run approximately a quarter to a third of the way along the length. The blades of manicures, or nail, scissors, unlike regular scissors, finish in a gradual incline that makes it simpler to style your nails. You cut through your nail from the side using these scissors. They don't inflict as much damage to your nails as clippers do. These lessen the risk of accidental skin wounds, cut more uniformly, and come in various sizes for trimming fingernails and toenails.
Best Manicure Set
Keiby Citom is a high-end manicure package that includes 17 different nail sets. It's light and portable, and it's simple to open. The pedicure and manicure tools in the package comprise surgical-grade stainless steel. It guarantees safe sterilization, lowers infection risks, and avoids rusting. This tools package will cover all of your manicure and pedicure needs.
It comes with a foot, face, and hand care equipment and a cleaning brush for the instruments. When looking for the best manicure kits, it's crucial to keep your health in mind. These devices are absolutely safe and help to lessen the risk of injury. Furthermore, they are packaged in an attractive box, ideal for fashionable people.
HC Star provides excellent value for money. It includes over 20 different instruments to assist you in efficiently caring for your nails and feet. The package comes with 18 tools in addition to two extra tools. For most users, the design of the tools box is a big discussion point. It's compact and very light, which makes this kit easy to carry around.
This package is ideal if you're searching for a high-quality manicure kit for personal usage. It enables you to get a professional appearance with a polished finish. Furthermore, the tools comprise high-quality, corrosion-resistant materials.
It has one of the most flexible applications among all the manicure and pedicure kits on the market. You may do everything you can to keep your fingernails in good shape. Dead skin fork, cuticle pusher, ear pick, tweezers, scissors, nail file, nipper, and nail clippers are among the tools included.
These instruments are all built of high-quality, rust-resistant materials. A high-quality manicure kit will include this feature. The manufacturer's warranty covers all tools. It ensures its long-term viability. The instruments come in a sturdy gold metal case that is faithful and fashionable. If you want a clean, professional manicure, this tool package is the way to go.
Conclusion
Whether you choose manual manicure kits with nail clippers, sanding sticks, and filers, or an electric filer and polishing tool to get the flawless glossy look, you must be aware that your nails require delicate and precise care from the products you employ. Although you may require various tools, you can usually locate an all-in-one kit to meet your manicure demands. Just make sure the tools are solid, well-defined, and intended to provide easy use and precise results without hurting your nails, so you can obtain the manicure results you want without having to travel to a salon.
(Visited 62 times, 1 visits today)