A trip to the manicure salon may feel intimidating your first time. Others may find it simple, but you may find it perplexing. It's almost as if everyone is speaking in a different language. What are you going to say?
So, what do you ask for when you go to the manicure salon? You must specify the sort of nail manicure you want while visiting a nail parlor. You'll also need to choose and request your preferred color, as well as any optional extras like nail art.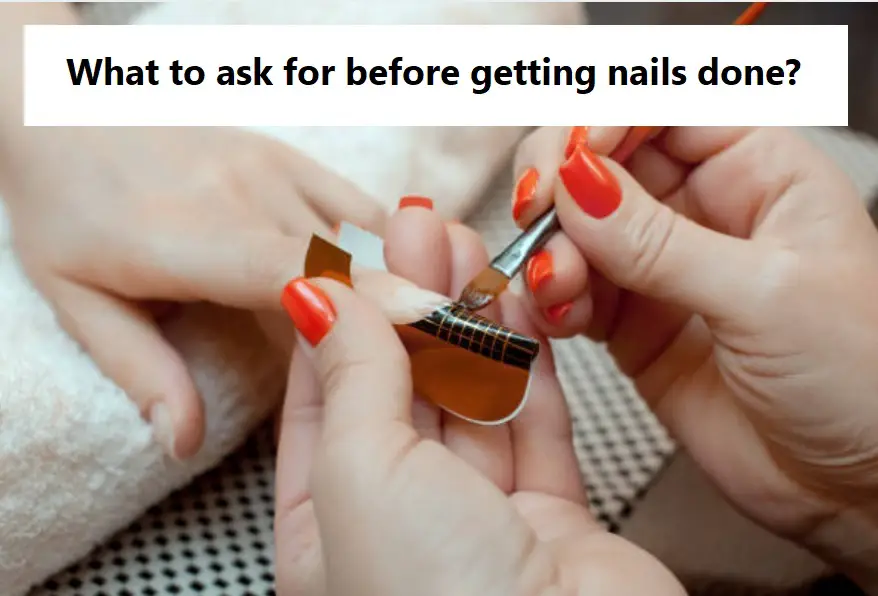 Doesn't it appear to be straightforward? You already know it isn't the case. Initially, at least. But there's no need to be concerned: decoding it isn't that tough!
You can ensure that your first trip to the manicure salon is a success with a bit of forethought. Even better, you can make all future trips a success! You'll be able to ask for what you want like a pro in no time.
First Determine What Type Of Nails You Want:
When you go to a salon, you have a lot of alternatives. You must be sure about the sort of service you want from the nail technician. Nail technicians provide various services, so knowing what they are and which one you want can assist the technician in comprehending what you're searching for. The following are the most common and fundamental services provided:
Gel nails: Gel can be applied straight to natural nails or to extensions that you put on the nail. A base coat, a color, and a topcoat are applied to gel nails in three phases. Each coat must be exposed to UV light to cure. The overall product is lustrous and silky.
Acrylic nails: Acrylic nails use a powder and liquid mixture applied with a brush on the nail or extensions. The acrylic is filed down to seem more natural after being applied and cured. A base, a color, and a topcoat are then applied to the nails.
Polygel Nails: These nails combine the benefits of gels and acrylics to get the best of both worlds. They're applied as a gel to 'forms' and then layered on top of your natural nails. As a topcoat, the tech will apply more polish. A UV light is required to treat it.
Manicure: It is an essential cosmetic treatment that pampers your hands and nails while also enhancing the appearance of your natural nails. The tech will trim, file, and shape your nails during a manicure. During a manicure, you might also use a nail paint coat.
You can tell your nail technician where to begin after you know what sort of treatment you want.
Content:
How To Ask Nail Technician For Acrylic?
How To Ask For Thin Acrylic Nails?
How To Ask Nail Technician For Gel Nails?
How To Ask Nail Technician For Dip Nails?
What To Ask At The Nail Salon For Natural Looking Nails?
How To Ask For Ombre Nails?
How To Ask For A Design At A Nail Salon?
How To Ask For Acrylic Gel Nails?
How To Ask For Matte Nails At The Salon?
What To Say When Making A Nail Appointment?
How To Ask Nail Technician For Acrylic?
So you want to acquire a complete set of artificial nails with gel paint. Choose a color, a nail shape, and provide your reference photographs to the nail technician. They begin with extremely long nails and trim them to your satisfaction, always erring on the side of caution by starting with them much too long.
Don't be afraid to pick up your phone and text. They need to be pared down if you have trouble texting. Also, make it clear that you want them to appear natural and not too big. Finally, acrylics do not include cuticle care, so if you require it, let them know before they paint your nails!
How To Ask For Thin Acrylic Nails?
While acrylic nail additions are a cosmetic augmentation of the original nail and frequent extensions, the goal is to make them as thin and natural-looking as possible while still assuring endurance. When additions are overly thick, they put more significant strain on the standard nail and make the augmentation more susceptible to service breakdown, such as lifting.
Many technicians apply too much product to the whole surface of the enhancement and then file it away. Applying extra products to remove it right away is a waste of effort and product. The thickness of the nail should be equal throughout, which one can achieve by mastering the filing method. Request that the acrylic nail has the thickness of a credit card at the free edge from your technician (approximately .03 inches).
How To Ask Nail Technician For Gel Nails?
If you want a sleek gel manicure, there are a few things you can ask your technician to help the procedure go faster and safer for your health. If you want gel extensions, ask the tech to present you with a few options so that you can pick your desired length and shape.
Instead of using whatever light is available, request that they utilize LED lights for drying. You won't have to think about leaving the salon with your grandmother's crinkly fingers this way. When your gel manicure's final coat scrapes away, the nail's top layers brush away as well.
To aid in the healing of your nails, request that the technician apply nourishing oils and cuticle cream once they remove the polish. To protect your hands from UV exposure, request that the technician give you gloves.
How To Ask Nail Technician For Dip Nails?
Dip nails are the latest, stylish pick when it comes to manicures. You've undoubtedly seen photographs of fungus-infected nails if you've gone down the rabbit hole of seeking information regarding dip powder. That's why, while getting your dip powder nails done in a salon, you need to be extra cautious.
Inquire if they dip consumers' fingertips in the same jar as everyone else's. To be on the safe side, request a separate container for your manicure.
Request that the nail technician applies the dip powder to the nails without the powder dust falling back into the container. When getting a dip powder manicure, these are the most critical sanitary considerations to bear in mind.
What To Ask At The Nail Salon For Natural Looking Nails?
The natural manicure is ideal for those who like to wear their natural nails. This treatment includes cuticle grooming, a hand massage, and regular nail paint, as well as trimming and filing your nails to the appropriate shape and length. You first need to know what you want before informing your nail technician.
Take some time before your appointment to think about what kind of natural nails you want and how you want them to appear. Be friendly when you describe what you're searching for at your appointment.
Show the technician a photo of the natural nails you desire. Do not ask for the unattainable or appear to be unreasonable! Be open-minded and considerate!
How To Ask For Ombre Nails?
Request an Ombre French Manicure or an Ombre Manicure when making your appointment. If there isn't a French Manicure choice on an online booking, choose nail art for all of your nails.
Request an ombre french manicure, an ombre manicure with white tips and a nude foundation, or just a basic ombre manicure at the nail salon. Because ombre manicures have grown so popular, you won't need to explain much more than that, but just in case, keep a few screen images of your favorite photos available.
Tell the nail tech what colors you want and if you want the design to be horizontal or vertical ahead of time. Give them all of the specifics and then sit back and watch them work their magic!
How To Ask For A Design At A Nail Salon?
You must inform the nail technician of the design you like, or better yet, show her a photo of the design on your phone so that there is no misunderstanding or incorrect assumption. When a skilled nail technician understands your needs, you will receive the nail design you like with no flaws.
Also, if you want to receive what you want, you should notify your nail technician ahead of time to avoid any misunderstandings or incorrect assumptions. Do not wait until the procedure has begun; it may be too late!
How To Ask For Acrylic Gel Nails?
If you want Acrylic Gel nails done at the salon, inform the nail technician or the person who makes the appointment ahead of time. Because acrylic gel nails take longer than other procedures, they may need to add time to your session. Tell the nail technician you want Acrylic tips and be as specific as possible about the shape and length of the nail you desire.
They will usually start with applying lengthy tips to your nails and then curve them down from there. Let them know you'd want a gel color placed over the acrylic as well, so they can prepare the color ahead of time. When you go to the salon for acrylic gel nails, be upfront and transparent about what you want.
How To Ask For Matte Nails At The Salon?
To get matte nails, all you have to do is tell your nail technician that you want a matte look. You'll need particular matte formulations or a matte topcoat to get this effect with nail paint. For gel or dip powder nails, a matte topcoat that goes over the completed product can still achieve the effect. If you're unsure, bring images of the look you want.
What To Say When Making A Nail Appointment?
Start by deciding what sort of manicure you want, and then check out what they have to offer. If you're unsure or confused, know what you want from a manicure and say it instead. Asking for what you want is the simplest method to express yourself.
You should be able to communicate your desires to your nail technician in a pleasant manner. Your nail technician, like many others, dislikes being told what to do. Use a polite tone while explaining your needs to your nail technician.
Conclusion
Any nail service is intimate in the sense that a nail technician and a customer are sitting across from one other at a small nail table, with the nail technician holding the customer's hands. Also, because a nail technician sees many people in a day, you can end up being just another customer.
You must be actively involved to make yourself stand out and have the nail technician pay attention to you and what you desire. If you want to obtain what you want, tell the nail technician what you want ahead of time to avoid any misunderstandings or incorrect assumptions.
More Articles On Nails Care:
(Visited 439 times, 4 visits today)