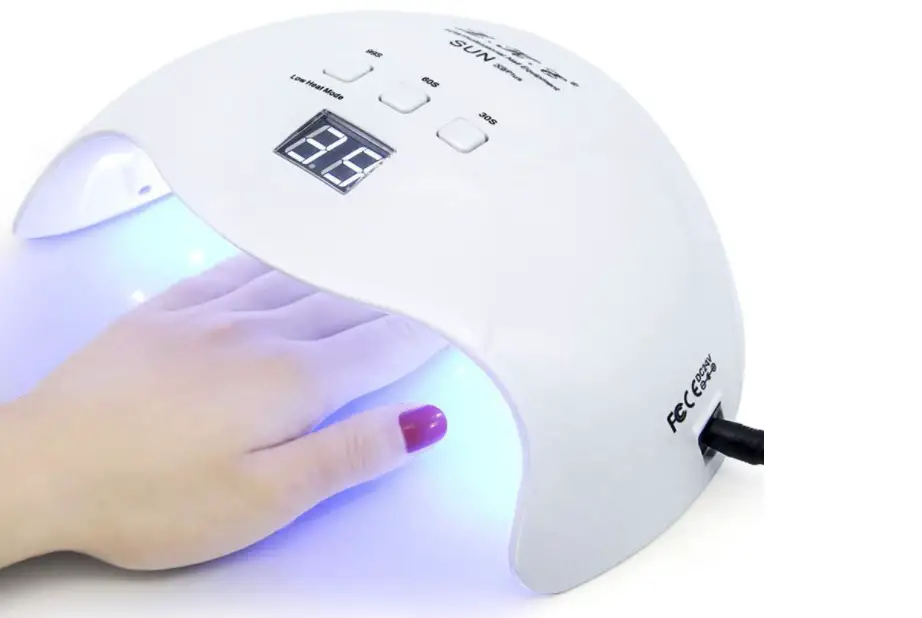 If you already have your manicures done regularly, you're well aware that gel nails are the best! However, they don't dry as quickly as standard nail polish. Gel manicures necessitate UV lights to cure appropriately.
You'll need a nail lamp to cure the nail polish if you wish to do your DIY gel nails at home. There are many UV nail lamps in the market to get the job done. However, not all of them hardens gel nails properly. In fact, one of the main causes of bad gel outcomes is improper curing.
Hence, you need to be very picky while investing in such a lamp. Also, I had several bad experiences with lamps that simply don't last. I have wasted a lot of bucks on those weary products. Thankfully, I got to use some really good UV lamps. Continue reading to learn everything you need to understand about UV Lamps before purchasing.
What Is UV Nail Lamp?
UV nail curing lights are small tabletop devices used to harden or "cure" acrylics or gel fingernails and polish. These gadgets are utilized in salons and are available for purchase online. Lights or LEDs emit UV (ultraviolet) radiation. Sunlamps, sometimes known as tanning beds, are not the same as nail curing lights.
The term 'UV Lamp' is the traditional UV nail lamp in tubes. UV requires more time to cure polish and bulb changing every several months. They cure all varieties of Gel polishes on the market today. UV lamps are curing lights that use two light-generating beads to cover a wide range of UV wavelengths. As a consequence, any polish gel may be cured with it.
Is UV Nail Lamp Harmful?
UV light has been linked to skin aging symptoms, including dark patches and wrinkles. UV exposure to the sun may cause fine lines and wrinkles all over the face and body, and any exposure to UV lamps can cause premature aging of the hands.
Furthermore, because the hands are one of the most exposed parts of the body, they are more likely to be subjected to UV radiation, which causes collagen breakdown, volume loss, and color changes such as dark patches. UV radiation is harmful on its own, but when combined with skin sensitivity, it may be even more so.
If you're using any drugs or supplements that render you more vulnerable to UV radiation, you should avoid these lights. Some medicines, contraceptive pills, and estrogens are among these drugs.
Solution:
Before using these lamps, remove any cosmetics, scents, and skincare products since some of these things might make you more vulnerable to UV radiation. Apply a substantial amount of sunscreen and wear manicure gloves before placing your hands inside a UV lamp to ensure your skin is as safe as possible.
Do You Need UV Nail Lamp?
Gel nail polish does not solidify when subjected to environmental light, unlike regular nail polishes. The curing of gel nail polish needs the use of radiation-emitting lights. You'll need a nail lamp to cure the nail polish if you wish to do your DIY gel nails at home. So, yea you do need a UV lamp if you love gel manicures.
How To Use UV Nail Lamp Properly?
It's straightforward and quick to use a UV nail light. Here are the steps to using a UV nail light to cure your gel manicure perfectly:
Turn on your UV light and make any necessary adjustments. For a more efficient manicure, it's best to stick to the suggested parameters.
After you've prepped your nails and applied the base coat, carefully set them under the UV light for two minutes.
To guarantee that your manicure is particularly robust and break-free, you should wait a bit longer with the base coat.
After curing the foundation, apply the layers of color to your nails and paint them to your taste.
Allow 1-2 minutes for your nails to cure.
Apply the last topcoat and cure your fingernails for 2 minutes to set everything in place after you've finished your creative.
How To Buy A Good UV Lamp?
UV nail lights are vital for conventional polish and gel settings in every professional salon. As a result, this nail lamp buying guide will cover the essential elements to consider when purchasing a UV curing light to dry your gels.
Accommodates Both Manicures And Pedicures
If you're going to use the same UV lamp for manicures and pedicures, a cordless lamp that effortlessly transfers from one room to the next can make your life a lot simpler. Cordless UV lights and rechargeable provide technicians the freedom to move about without having to juggle cables or look for accessible outlets.
Works With A Variety Of Gels
Some UV lights are only meant to be used with specific gel brands. Choose a light that can treat a wider variety of gels if you require greater versatility. Some of the most recent models use a 36W lamp that can cure 99 percent of gels in less time.
Comfortable For Fingers
To avoid customers feeling awkward and uncomfortable, look for a UV light with a broad aperture to fit more extensive hands and feet. These minor things are easy to ignore, yet they significantly impact the entire experience by allowing customers to sit back and enjoy the services in comfort.
Useful Features
Consider the gels' setting directions, the gel colors you're most likely to use, and if you'll be using gel for nail art. These factors influence the amount of time it takes for the gel to set. Choose a light that provides you with a variety of timed settings. Some UV lights, for example, feature five distinct timed settings and a motion sensor that switches the lamp on when the hand or foot is put inside the light.
Maintenance
Some wireless, rechargeable UV lights only hold their charge for a short period, requiring extra effort and care to keep them running. To avoid stopping and charging during the workday, look for a light that can retain a charge for at least 10 hours.
Top 7 Durable UV Nail Lamps
One of the most challenging elements of applying gel nail polish at home is the time it takes for the paint to dry. Investing in the most pleasing UV nail light might be a game-changer in this situation.
A UV nail light helps make drying gel nail lacquer on your nails a breeze. They have a radiation-emitting bulb, which is why the nail polish only takes a few seconds to a few minutes to settle correctly.
If you're having problems finding the perfect UV nail light for your at-home manicures, here's a list of the most acceptable options depending on my experience.
The Easkep UV LED Curing Lamp claims to cure gel nails twice as fast as traditional manicure lamps. The lamp has a dual source of light with wavelengths of 365 nm and 405 nm.
The light can also cure LED gels, builder gels, and rhinestones glue in addition to gel nails. The curing lamp's diamond shape and spherical form aid in avoiding light leaking while also speeding up the drying process.
It also shields your eyes and hands from any potential injury from extended exposure to the bulb. The lamp's shape also prevents your skin from darkening. It even protects your hands from the elements.
Pros
Avoids light-leaking
Maximum speed of drying
Prevents darkening of the skin
Protection from extreme temperatures
There is an LCD screen.
Lightweight
The Nail Dryer by Jewhitney may be used by two feet or hands simultaneously. The dryer comes with a giant LCD screen that makes it simple to observe the curing time. The nail dryer makes it possible to cure your fingernails safely and comfortably. The nail drier also features an automated sensing function, making it more user-friendly and convenient. It is capable and good at curing all sorts of gel polishes. It's also a present terrific idea for family and friends. The dryer includes a retractable base that makes curing toenails simpler. This removable base also makes cleaning the dryer a breeze. Its open design allows heat to disappear quickly.
Pros
Lightweight
Great for home and salons
Includes an automatic sensor
Cures all varieties of gel
The LKE Nail Dryer is a compact and lightweight device. It has an easy-to-use design that protects your eyes and prevents skin discoloration. The nail dryer is portable due to its tiny size and lightweight. The nail drier is portable, tiny, and lightweight, making it easy to carry around.
The dryer also contains an automated sensor that enables it to be turned on or off without the need to push any buttons. The dryer has three timer settings, is lightweight, and is simple to wash and use. It is capable of curing any UV gel nail varnish.
Pros
Lightweight
Compact
Prevents darkening of the skin
Has an automatic sensor
The Melodysusie Nail Light is a lightweight, ergonomically built portable nail lamp. It's lightweight and mobile, so you can take it with you everywhere you go.
The nail light uses low heat to cure your nail paints. It covers your hands from the damaging rays. The light uses less electricity and contributes to energy conservation. It includes a one-button layout and a built-in timer, making it simple to operate.
The lamp's light beads contain unique technology to cure UV and LED gel nail polishes. Compared to existing LED nail lamps, the nail lamp promises to reduce cure time by 50%.
Pros
Lightweight
Electricity is conserved.
Easy-to-use design with only one button
The sophisticated LED double source of light bulb technology in the Sunrich UV Gel Nail Lamp is used. This technique aids in the curing of all types of nail gels. With a reduced wattage, the light cures all nail paints faster.
There are four distinct sorts of drying choices available with the light. It also has a giant LCD screen to observe how much longer the curing process will take.
The lamp has an autonomous sensor, which turns it on and off without any controls. The lamp has a heat dissipation hole to prevent it from being overheated. The light claims to cure nails up to 80% quicker than existing nail lamps.
Pros
Sensors that operate on their own
More rapid action
Avoids overheating
All varieties of nail gels are compatible.
The SunUV Nail Dryer is a lightweight gadget perfect for newbies and junior manicurists. The nail drier has a UV and LED dual light that speeds up the drying process and cures gel nail polish in only 60 seconds. The nail dryer is an excellent present for friends and family.
The curing light is made in such a manner that it will not do any harm to your eyes or skin. The light is straightforward to clean. The nail drier is ideal for use at home and in the salon. It has an automated sensor that makes it simple to operate. It can heal 5 toenails or fingernails at once because of its ergonomic design.
Pros
Lightweight
Quick action
Cleaning is a breeze.
An auto-finger infrared sensor is available with the Anself Gel Nail Lamp. When you place your hand within the light, the lamp will automatically switch on. It has an LCD to keep track of the curing time and battery capacity. It can cure any gel nail polish. The lamp comprises 32 long-lasting LED light beads and has a lengthy lifespan. The lamp's huge size allows you to heal all five of your fingers at once. The design also makes cleaning a breeze. This lamp includes a lightweight handle that makes it easy to transport. This light swiftly heals the nails without scorching them.
Pros
Lightweight
Cleaning is a breeze.
Durable
Sensor that is activated automatically
Long life expectancy
It cures any gel nail polish.
(Visited 562 times, 1 visits today)