The cuticle is a thin layer of the skin surrounding the nail's edge. Its role is to defend against infections and stop bacteria from getting beneath the skin as new nails grow; therefore, they must be kept in good condition.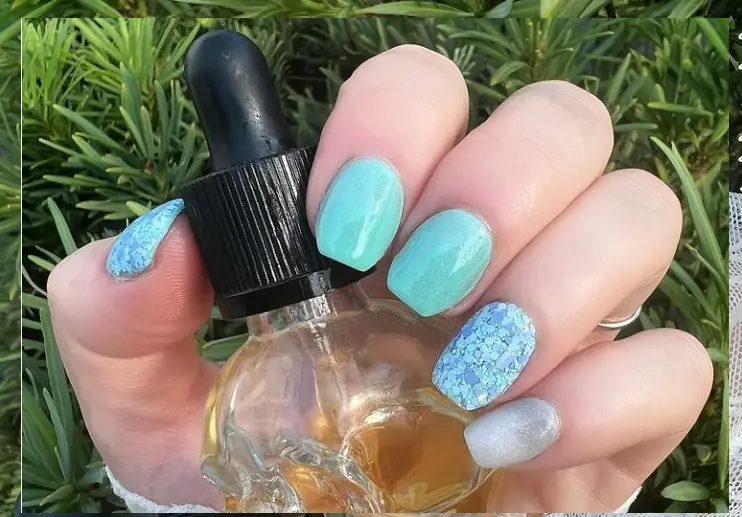 On the other hand, keeping your nails healthy needs more than simply a nutritious diet. Cuticle oil is the go-to solution when your fingernails begin to look chapped, cracked, or dry due to constant exposure to the outdoors.
Cuticle oil is an essential part of every manicure process; if your fingernails are always flawlessly polished, you choose to go bare, or you lie somewhere in the middle.
While it's fantastic for moisturizing the cuticle, the name is a little deceptive because it's also excellent for the nails themselves.
What Is Cuticle Oil?
Cuticle oil is a hydrating nail care product. It's made up of several oils and is meant to be applied to the cuticles, the little, somewhat toughened strip of skin at the end of the fingernails and toenails, with a brush, cotton ball, or pen.
People use it to keep their skin moisturized as part of their everyday cosmetic routine or during a manicure. Although it is costly, it can help to relieve discomfort and enhance confidence. You can find it at department shops, drugstores, and the internet.
Excessive coldness, sunlight, chlorine, saline, or soapy water can cause chapping, cracking, and drying of the cuticles. Cuticle oil helps restore the health of your cuticles and fingernails in these circumstances of excessive dryness and damage.
Cuticle oils may quickly and deeply enter the nails, keeping them moisturized, supple, and healthy. Nails are similar to sponges in that when they become dry, they become hard, break, and become brittle.
In terms of skin protection, cuticle oils are great for preventing hangnails by maintaining the cuticle and other tissue around your fingernails from drying out.
✔️Benefits Of Cuticle Oil
Cuticle oil has a few additional advantages in addition to helping to sustain healthy, moisturized nails.
💅🏻Accelerate The Growth Of Stronger Nails
The significant advantage of implementing cuticle oil is that it speeds up and strengthens the growth of your nails. A clump makes your nails of skin cells known as the nail matrix, located beneath your nails just beneath the epidermis. Cuticle oil helps make your skin cells in the nail matrix healthier by applying it to your fingertips and cuticles. They also aid in improving blood circulation to these cells, allowing cells to receive more oxygen and nutrients.
💅🏻 Beautifies The Appearance Of Your Cuticles And Skin
Have you ever seen someone with incredibly well-designed nails but discolored, wrinkled, and worn-out skin surrounding their nails and cuticles? The most straightforward approach to avoid this is to apply cuticle oil regularly. Cuticle oil hydrates and nourishes your cuticles as well as the skin surrounding your nails, promoting blood circulation in the region. It maintains the health of your cuticles and keeps them from becoming wrinkled and discolored.
💅🏻 Aids In The Healing Of Cuticle And Skin Damage
Certain cuticle oils, including jojoba and almond oil, are high in antioxidants, aiding cellular regeneration. Suppose the skin surrounding your nails is worn down and damaged, either from daily activities like cleaning and cooking or from overusing harsh chemicals during regular manicures. In that case, you should start using excellent cuticle oil.
💅🏻 Helps To Extend The Life Of Your Manicures
Using Cuticle Oil daily will assist your gel manicure, conventional nail paint, and even artificial nails last longer. The cuticle oil will help maintain the gel paint and acrylics from drying up, making them more prone to chipping and peeling. It is why, following a manicure, a competent nail technician will always spray cuticle oil on your nails.
💅🏻 Prevents Infections Of The Skin, Cuticles, And Nails
Cuticle oils, such as Jojoba oil, have potent antibacterial and antifungal characteristics that can help prevent fungal and bacterial infections in your cuticles and nails. Cuticles that are worn out or damaged are more likely to develop cuticle and nail infections.
💅🏻 Can Soften The Cuticles
Instead of removing the cuticles entirely, most ladies prefer to soften them and then press and align them. When combined with soap and water, Cuticle oil may soften your cuticles, allowing them to be aligned and corrected more readily without giving you discomfort. It helps make your cuticles seem more consistent and extends the life of your nail paint.
💅🏻 Can Help Protect Your Bare Nails
Cuticle oil makes your nails extra flexible by keeping them from drying out, making them less likely to break. A tiny coating of cuticle oil applied to your nails can also function as a layer of protection.
It is because the oil acts as a barrier, protecting your nails from scraping and exposure to harsh chemicals such as detergent.
Can You Use Cuticle Oil For Gel Nails?
When applying gel paint, ensure your fingernails are entirely oil-free by washing them down with a cleaning wipe before starting. If there are any slight traces of oil on the nail, Polygel will not adhere to it.
Rather than using your cuticle oil shortly before your gel manicure, make sure you utilize it during the build-up. It's also a good idea to use cuticle oil right after your manicure to moisturize your nails.
Apply cuticle oil immediately after your gel manicure is completed for beautiful, nourished nails.
Why Is Cuticle Oil Good For Acrylic Nails?
If you prefer to wear Acrylic Nails, you might want to consider investing in Cuticle Oil to help maintain their natural strength, health, shine, and radiance.
Cuticle Oil is the way to go when taking care of your nails. Cuticle Oil is among the most acceptable methods to get the most out of your Acrylic manicure while also making it last longer.
It's also among the most excellent methods to keep your nails healthy and strong, especially during and after using acrylic nails. A nourishing and moisturizing Cuticle Oil may make all the difference when it comes to extending the life of your acrylics while also keeping your natural nails from drying out.
The most refined Cuticle Oils nourish and moisturize your nails while providing the conditions they require to flourish and thrive. Applying a renowned oil regularly is one of the most beneficial and perfect things you can do before, during, and after having Acrylics.
How To Buy A Good Cuticle Oil?
✔️Ingredients That Are Hydrating
When you're struggling with harsh, dried cuticles or weak, broken nails, most cuticle oils have oils as a basis, which is a positive thing.
Look for moisturizing oils like mango, argan, avocado, sunflower, and jojoba, as well as vitamins E and other antioxidants.
They'll make sure your cuticles are hydrated and softened, so you may remove them if you want to. Look for both strengthening and reparative solutions to help prevent future nail breaking, hangnails, and cuticles.
✔️ Packaging
Consider where you'll use cuticle oil and when you'll use it—do you want to keep it in your bag? A rollerball could be the best option for you. Do you want to store it alongside your other nail supplies in your bathroom?
A primary brush-on product or a cream may easily be incorporated into your nail care regimen. There are multiple solutions available, including serums in tubes, cream pots, and even handy pen options.
✔️ Additional Benefits
Some of the oils may also be used as nourishing oils for the remainder of your skin and hair or have additional advantages such as exfoliating nail beds, which can aid in the removal of dead skin, also known as cuticles.
Determine your nail issues and whether or not you require a multitasking product to discover one that meets your requirements. You can also use some alternatives on your other hands, as well as scars and burns.
Top 5 Cuticle Oils to Choose from:
Are you prepared to master the art of nail care? The 5 best cuticle oils, as suggested by experts and consumer feedback, are listed below.
There is no cuticle oil as good as Cuccio in the market right now. It is "the cuticle oil" you want to invest in. This choice is developed with natural components, including honey, which calms and hydrates the area surrounding your nails, and lactic acid from milk, which helps to invigorate and renew the skin around your nails.
The best-selling formula comes in several aromas, including chamomile and lavender, citrus and wild berry, mango and bergamot, and a fragrance-free version if you prefer. Many reviews also reported that it accelerated the growth of their nails.
The second oil comes from the prestigious Magique brand. It is an entirely natural product made with just pure and organic components. It's also vegetarian-friendly, nut-free, cruelty-free, and non-GMO.
It's no wonder that Dermatologists, Manicurists, and Nail Technicians all around the globe endorse it. It's a Cuticle Oil that you may use for various things, including repairing cracked or broken nails, torn cuticles, and unhealthy hangnails.
Natural Oils, Vitamins, and Minerals are abundant in composition. Vitamins A and E, in particular, work together to strengthen, hydrate, moisturize and smooth the skin. It comes in an unusual and slender bottle that makes it very easy to travel.
The applicator is a pen, so you brush the oil on your nails with it. It makes it quite simple to use it daily. You also receive two pens, one of which you may keep at home and take with you on the road. It's the ideal size for a cosmetic bag!
You've probably already seen the bottle in a salon before; it's one of the formulations that professionals frequently use. When purchasing cuticle oil, search for brands that contain jojoba oil and vitamin E.
They are antioxidants and a fantastic moisturizer for the skin around the nails. Jojoba oil is great for imitating the oils found naturally in your skin and absorbing fast, while vitamin E offers an added boost of nutrition to this alternative.
You may buy many bottles and have them scattered throughout the house for convenient access; however, one bottle lasts long.
Bee Naturals has created one of the most effective natural cuticle oils on the market. It is the substance you'll use to care for your nails before, during, and after you've applied acrylics.
You can quickly and efficiently moisturize your nails and guarantee that they have the raw ingredients they need to develop and flourish by using an all-natural combination of Essential Oils, Vitamins, and Minerals.
There are no harmful chemicals, and each item was chosen after a thorough investigation. These components also serve as a potent antifungal, killing and removing any germs that might cause your fingernails to be yellow, weakened, and brittle.
The addition of Vitamin E is another essential component that makes this a fantastic choice. As a result, it's ideal for exposing your nails throughout an Acrylic Wear period since it may aid in supporting your fingernails from the foundations up.
Bee Naturals Cuticle Oil is also available in a pen format for convenient application. It makes it much more convenient to apply and carry about.
This Amazon bestseller gets terrific reviews for its delectable aroma as well as how effectively it works on both fingernails and cuticles. Mango oil is the main attraction, combined with sunflower oil and calming aloe, a great complement if your cuticles are nearly bleeding. It's also simple to give out the proper quantity for each nail with the dropper bottle.
(Visited 249 times, 1 visits today)