You could assume acrylics are the answer if you want your fingernails to appear sharp at all times without spending money on supplements or waiting for them to grow out. Think again!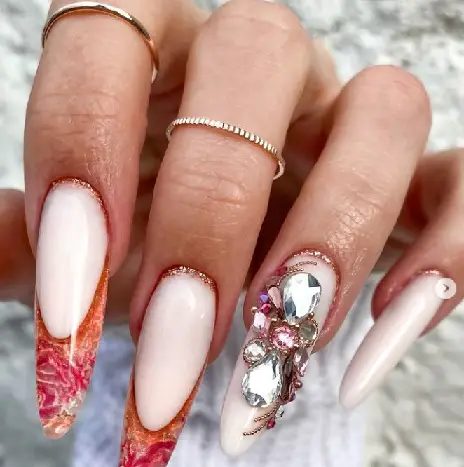 While acrylics may appear to be a great choice, they do have certain disadvantages. For the most part, the chemicals utilized in acrylics are harmful to your health and can cause severe damage to your fingernails over time. Fortunately, there are several options. These nail treatments can give you the perfect manicure without the drawbacks of acrylics.
Can You Get Longer Nails Without Acrylic?
Acrylic nails, often known as fashion nails, are great if you have missing or poorly constructed nails and wish to make them seem longer and more attractive. However, they can harm your natural nail below, and growing out your fingernails with acrylics over them can be difficult.
In addition, fungi and bacteria thrive in damaged nails. Acrylic nail application necessitates harsh chemicals and the production of fumes. Such drugs may cause an allergic reaction in particular women.
Don't worry! You can get longer nails without acrylic with gel extensions, dip powder, and fiberglass. Read below for more info.
How To Get Nail Extensions Without Acrylic?
You can use the following alternatives to lengthen your nails without using acrylics.
Gel Nail Extensions
Gel extensions are an excellent alternative to acrylics because they don't contain harmful methyl methacrylate. They comprise the same gel that goes into gel paint, add length to ordinary nails like a press-on, and are as tough and durable as acrylics without the granules or harsh chemicals.
You may choose from a range of forms, such as square, circular, or stiletto, and the manicurist will fix the extension to your fingernail with a tiny quantity of gel. It dries under an LED light, and you may then apply colored gel polish as usual. These are tough and durable, lasting up to three weeks.
Applying Gel Extensions
First, file, push back, trim dead cuticles, and buff your nails. Application of gel extensions requires clean and dry nails.
Take every finger and find the tip that is the right size for it.
The interior of the fingernail tips will be filed, or a coating of acetone will be applied next. It will give the glue some traction.
Bonder liquid will be applied to natural nails. Bonder is a dehydrator, so ensure your natural nails are dehydrated and free of oils and dirt before applying it.
After that, use a priming liquid to coat natural nails. The primer makes your nails sticky, making it more straightforward for the gel to adhere to them.
On the natural nails, apply a thin coating of extended gel.
For 60 seconds, place your hand in the UV/LED bulb.
Apply little gel to the tips' undersides. Place the gel tip to the natural nail and firmly press it in place.
Finally, for another 60 seconds, place your hand within the UV/LED lamp.
Fiberglass Nails
You can still obtain a thick, wholesome mani using fiberglass if you chew your fingernails or have very brittle nails. To produce a hard surface, your technician will apply a small mesh strip with microscopic glass fibers to your nail and seal it with transparent adhesive. You may require numerous layers to get there, and the process might take a long time. Professional touch-ups will be necessary every two to three weeks.
Dip Powder Nails
If you want something more than a gel manicure but aren't ready to commit to artificial nails, dip powder nails are a fantastic choice. Begin by applying a base coat and buffing as normal. After that, you'll dip your fingernails into a powder in the color of your choice, as the name indicates. Shake off excess powder and have your manicurist apply a sealer and topcoat. There's no need to dry underneath a UV light like gel. They may also endure longer. Expect perfect nails for two to four weeks.
Conclusion
The aforementioned acrylic alternatives are safer because they don't require as many toxic chemicals as acrylic applications. The tips are lighter than artificial nails, putting less strain on the nail bed and giving them a more natural appearance.
Unlike an acrylic application, which is infamous for emitting unpleasant fumes, the application method produces no harsh fumes or poisonous odor, making it safer for everyone. Most of these methods are odorless and do not emit any unpleasant odors, unlike acrylic applications.
These also provide manicures that are incredibly long-lasting and resistant to chipping and peeling. It might last 3-4 weeks, depending on the kind you pick. As a result of these options, you will be able to grow longer nails without harming your natural ones.
(Visited 468 times, 1 visits today)