Gel extensions are one of the most common and well-liked methods for getting longer, stronger nails these days. Although every length and shape offers a plethora of nail-related options, sometimes the objective is to provide long, durable tips to each nail or provide more area for nail art and polish in general.
That's when they're helpful. This nail method may be the answer to your beauty prayers, but it does come with its own set of benefits and drawbacks. It may last up to four weeks, just like artificial nails, but both have a reputation for being destructive.
If you're thinking about having gel nails, you might be wondering if they're possible for you. Are your nails too short of applying polish? That's why it's crucial to know everything before going into the realm of gel nails, especially if your nails are short or bitten.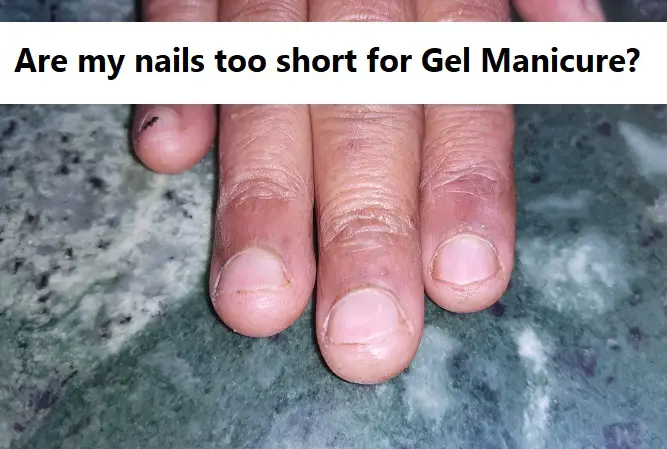 How Long Do Nails Have To Be To Get Gel Extensions?
A gel nail is a method of applying hard gel to a natural nail and curing it using UV light. To lengthen the length of the nail, the manicurist employs a nail form, which is essentially a sticker that fits beneath the nail's free edge (tip). It's a complete soft gel nail tip that's already sculpted and secured on the natural nail with gel.
They are available in multiple sizes and forms, including stiletto, round, coffin, and square. It's even faster than gel extension construction because it doesn't require filling. The only need is not to bite your nails through to the quick. Your nail should have a little length, not a lot, but just enough for a gel extension. If your nails are too short, the extension won't adhere to them.
However, Gel nails do not have a minimum natural nail length requirement. It is due to how the gel is applied and adhered to the top of your nail. As a result, anyone may have Gel Nails as long as you administer them correctly and effectively.
While superstars like Bella Hadid and the Kardashians may lead you to assume that long nails are the only way to create a fashion statement with your fingertips, this is a falsehood. It is something that every expert on the planet will agree on. All of this was made possible by the invention of Gel Nails. There are, however, many misunderstandings about Gel Nails.
What Is The Procedure For Applying Gel Nail Extensions?
When buying a package of pre-shaped gel nail extensions or making them from scratch, the nail technician must first prepare the nails (file, clean, and buff nails). The professional then places a form beneath the natural nail and uses a gel builder, gel primer, and gel topcoat to construct the length one by one, drying them under LED or UV light.
The next step is to apply a bonder (which dries your nails) and a primer (which makes your nails sticky) to ensure that the gel adheres to them. All of these items include gel nail extension kits. Third, put a gel coat on the natural nails and let them dry for about 60 seconds in the light.
Apply the gel to the interior of the gel extension and place it on the actual nail after determining which size matches your nails or your client's actual nail. Now it's time to push and hold the button for 60 seconds while sitting in the light. That's all; your gel nails are now ready to be painted and decorated with your favorite color.
Gel Extensions On Bitten Nails
Gel extensions are constructed of the same gel that goes into gel paint, add length to ordinary nails like a press-on, and are as solid and long-lasting as acrylics without the powder or harsh chemicals. When it comes to bitten nails, individually shaped gel nail extensions are the way to go. They make it impossible to bite the nails.
They're incredibly comfortable to wear, lovely, and you can get them in the length you desire. They also give the nails time to heal while they're on. Gel extensions may generally be applied to very short and bitten nails as long as there is enough nail plate for the gel to adhere to.
Gel application is not feasible if the nail is bitten to the quick. Prepare to spend at least one hour in the chair, whether you're getting a new set of extensions done by a professional or on your own on extremely short bitten nails. It's a procedure that you shouldn't rush, so set aside 1-2 hours depending on the length and form of the nail you want. If you're getting nail art done, it takes time as well. When applied appropriately to short bitten nails, gel extensions should last 2-4 weeks.
Conclusion
Gel nails, like any other manicure aesthetic, are a personal choice. While they surely make more room for popular nail art, you can wear them on nails of any length. If you've been thinking about having gel extensions but have been concerned about your natural nail length, don't be.
Everyone may benefit from the gel, regardless of their nail form, size, or length. If you're hesitant or can't seem to attain the appearance you want, attend a professional salon for professional nail treatment and gel manicure. Otherwise, invest in a nice gel extension nail kit; it will help you save a lot of time, and your wallet will thank you!
More Articles On Gel Nails:
(Visited 709 times, 1 visits today)