Soak-off gels are a fantastic alternative to traditional manicures. Gel manicures are applied like varnish, dry like lacquer under UV lights, and last for up to two weeks — or even longer in certain situations.
The varnish is safe for natural nails and does not require buffing or filing, harming the nail bed. Instead, the gels "soak" off using nail solution from the gel makers or diluting the nails with nail paint remover and a buffer. It's applied like conventional nail polish, and each layer is cured with a UV bulb. Unlike traditional nail polish, you won't have to wait long for your soak-off gel paints to dry.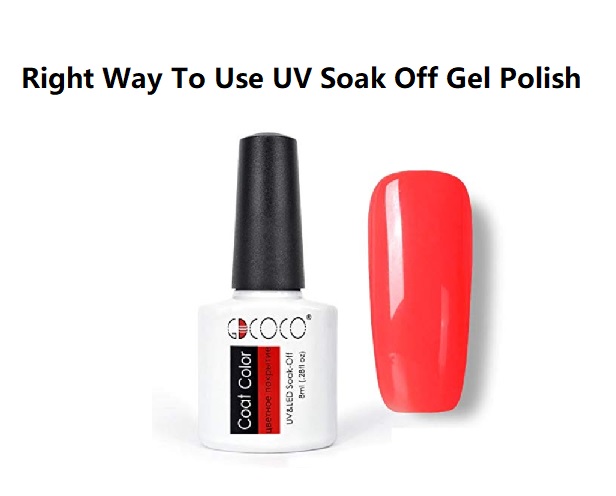 Soak-Off Gel Polish Pros
Gel polishes that soak off last a long time. They may be worn for up to 3 weeks without peeling and still appear brand new. It has a natural feel because of its lightweight composition, applied in thin layers, making the gel polish exceptionally durable and chip-free.
The period it takes for your nails to dry depends on the type of nail light you use. Drying time ranges from 5 seconds to 2 minutes. LED bulbs cure soak-off gel nail paint in 5 to 10 seconds, whereas UV lamps take about 2-3 minutes. Even though each layer must be cured, nail lamp curing takes only a few minutes.
Soak off gel polishes do not harm or weaken your nails, contrary to popular belief on the internet. Although, if applied and removed incorrectly, it may damage your nail beds. The gel formula adds strength to your nails and keeps them from ripping or breaking, helping them to grow longer and more robust.
Always use a soak-off approach while removing the product to avoid harm. Because gel polishes have a long-lasting formula, you cannot remove them by rubbing acetone directly on the surface. Still, there are other options for removing them at home, including the Nail Steamer and Gel Nail Polish Removal Wraps. These are simple home remedies that won't harm your nails.
The soak-off gel manicure produces better results than ordinary polishes. They produce a brighter, less streaky finish. It provides all of the benefits of traditional nail paints and is just as simple to apply. Soak-off gel nail polish has the performance of a gel yet the application of polish.
How To Apply Soak-Off Gel Polish?
Prep The Nails
Push back your cuticles, file, buff, and cleanse your nails with a nail prep and polish wipe. Using a brush soaked in the Base Coat, apply it to the nails. To remove any excess polish, wipe the brush down the sides of the top of the polish. Then, apply a thin coat to each nail, ensuring the polish is uniformly coated and there are no clumps or drips.
Allow The Base Coat To Dry
Place your fingers in the LED bulb hand slot once each nail is painted. Set the timer for one minute and turn on the light. Maintain this position until the indicator light turns off.
Apply The Soak-Off Gel
Allow the Soak Off UV Gel Color of your choosing to self-level before carefully guiding it to the nail region. Place your painted hand in the hand slot of your UV lamp and set the timer for 1 minute. Switch on the lamp and place your fingertips beneath it until the timer goes off and the soak-off gel cures.
Apply a second coat, making it as thin as conceivable this time. The best thing about gel is that it doesn't dry until you fully cure it. Consequently, you may make as many changes as you want without worrying about destroying the patterns. After that, cure the fingernails one more time.
Apply The Finishing Gel
Brush on a Soak Off UV Sealer and finish Top Coat and cure under the UV lamp for 2-3 minutes to get that extra glossy effect. To expose a high gloss finish, remove the sticky layer using UV Gel Finishing Wipe. Gel polishes that soak off are simple to use and apply. Only a few basic processes are required to get flawless gel nails.
Conclusion
If you're new to this type of nail product, start with a visit to your local nail salon. Aside from seeing the procedure, you can always ask your nail technician for advice on keeping your nails healthy.
Don't worry; soak-off gel polishes are simple to apply and remove; nevertheless, it is essential to know how to apply and remove them adequately to avoid damaging your nails. Is it worth it? Yes, absolutely! It's a delight to have well-kept and manicured nails, and that's a good enough reason to have them. You will like these after you have tried them!
More Articles On Gel Nails:
(Visited 509 times, 1 visits today)