The gel nail paint has become a modern cosmetic staple for a reason: it's almost unbreakable, obscenely shiny, and available at nearly every nail parlor. The most tempting element of a gel manicure, on the other hand?
There's no fear of chipping your manicure the moment you dive into your handbag to check your phone – or for the next several weeks.
Gel polishes are made from more potent chemicals that grip the nail more tightly than regular lacquers and are durable enough to withstand everyday use without peeling.
Gel polishes are more flexible and hence more resistant to chipping. Gels are cured under a UV or LED lamp and removed by soaking for at least ten minutes in acetone.
How Does Gel Nail Polish Dry?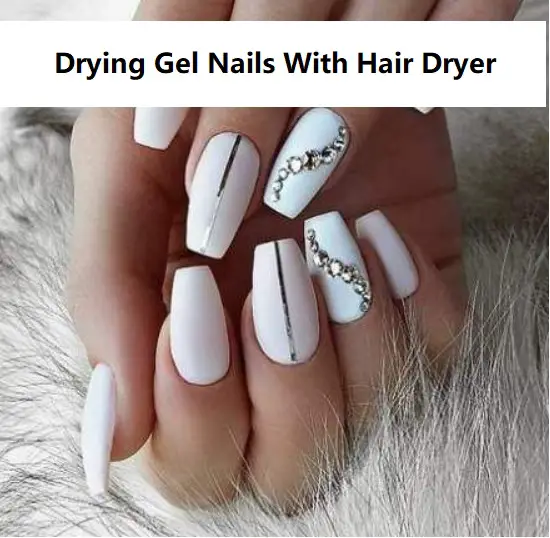 It is preferable to use the term cure rather than dry when discussing gel polish. In chemistry, the phrase "curing" refers to the process of hardening or toughening a substance.
A UV light or an LED lamp can cure (or harden) gel nail paint. It's simple to cure your gel nail paint. Apply the polish, place your hand under the lamp, and push the start button.
Keep your palm motionless and wait for your lamp's light to fade out. With certain lights, you can heal your entire hand at once, or do the fingers and thumbs individually, four fingers at a time, then both thumbs together.
There is no faster technique to dry your nails if you are in a hurry. Gel nail polish dries (or cures) far faster than traditional nail polish. The period it takes to cure your nails depends on the type of light you use. LED lighting appears to be a little faster.
The length of time it takes for the polish to cure is also determined by how thickly you apply it. When applying gel to your nails, you should always apply multiple extremely thin coats, as thin as possible.
If you don't do this, your nails cannot cure correctly, and you'll have to redo them. After each application, you should cure the gel nail polish, including the topcoat and the base coat.
Does Gel Dry With A Hair Dryer?
The primary reason that people without UV or LED nail lights despises at-home manicures is that they never wait long enough for their nail paint to dry.
These folks can use the cold button on their blow-dryer to dry their gel nail paint. The reason for pressing the cool button is that hot air would keep the polish flowing rather than harden it. Many experts use the dryer on their famous clients' hands regularly.
On the other hand, using merely the dryer will dry the top but melt the interior, leaving wavy lines, and it will never be totally dry. Under the dry top, it will be gooey or gummy.
As a result, relying solely on the hairdryer is a terrible idea. Curing the nails with an LED light and finishing with the drier is significantly more effective.
If the polish is nearly dry, run your fingertips under a low volume spray of cold air for a few seconds, being careful not to rub the fingernails. After the manicure has dried, apply sun oil or cuticle oil.
It will soften and condition the cuticle region and assist in conditioning your hands around the nails. It also feels fantastic.
It also preserves the polish while it's still new. The UV light released by the UV lamps does nothing to dry nail polish; however, the heat generated by the light unit aids in the drying process.
It's not a good idea to use merely the hairdryer. You can create stunning gel nails by using both a lamp and a drier, and they'll dry and stiffen flawlessly, leaving you with an excellent manicure.
Conclusion
Experts do not recommend using at-home gel kits unless you are experienced with appropriate nail prep and application.
The gel polish may lift if not appropriately applied, causing harm to the natural nail. If you're confident in your nail talents, though, try them out to save money on your weekly mani.
Gel kits for at-home use last a little longer than regular manicures, but they're far from professional standards.
To obtain a beautiful gel nail, you must follow the directions to the letter and have a reasonably steady hand. You'll wind up with a flawlessly destroyed manicure if you merely use a hairdryer to dry the nails. So visit a nail salon and get those!
More Articles On Gel Nails:
(Visited 1,437 times, 1 visits today)