If you have your nails done frequently, you already know that gel manicures are the greatest! They do not, however, dry like ordinary nail paints. UV and LED lights are needed to cure these gel manicures.
Unlike traditional nail paint, gel nail polish does not harden when exposed to natural light. Gel nail polish requires the use of lights that produce radiation to cure.
If you want to do your own gel nails at home, you'll need to start by purchasing a nail lamp to cure the nail polish. Continue reading to know all there is to know about LED UV Lamps before purchasing.
What Is An UV LED Lamp?
The new generation of LED gel lights on the market has created some misunderstanding about the distinction between an LED lamp and the standard UV lamp that nail technicians have been using for years.
Let's start with the obvious: they all emit UV light, which is how a gel polish cures. 'UV Lamp' refers to the classic tube-style UV nail lights. These take longer to cure polish and require bulb replacement every several months.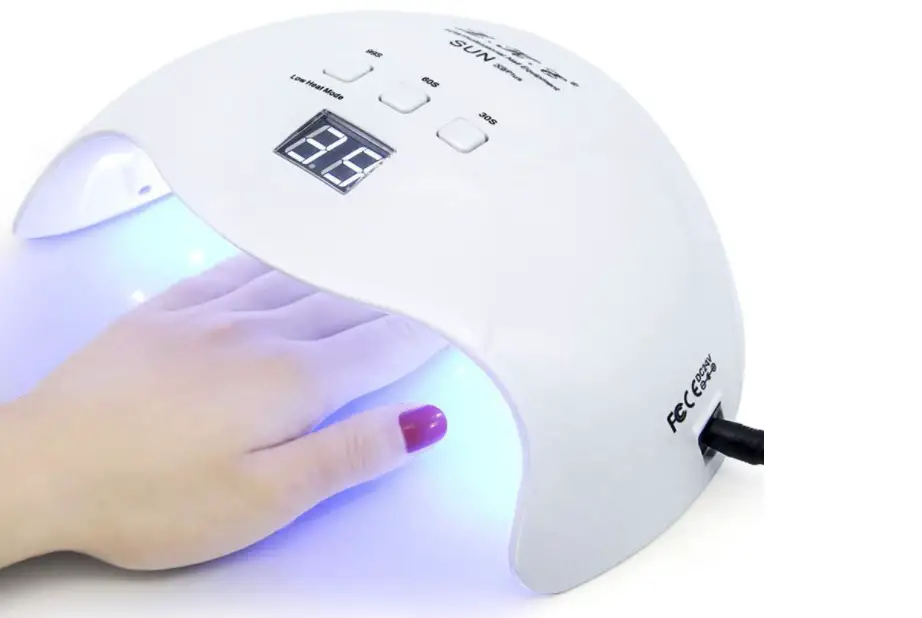 They will, however, cure the majority of Gel polishes now on the market. The terms "LED Lamp," "LED UV Lamp," and "LED Gel Lamp" all refer to the same item.
UV lamps with LED bulbs are used in all of them. LED lights can only cure gel finishes that are made particularly for them.
UV LED lamps are curing lights with two light-generating beads that span a wide range of UV light bands. As a result, it can cure any polish gel.
The bulbs in LED lamps last longer, and dry gel nail paint dries faster. However, because LED gel polish cures faster than ordinary UV gel nail paint, you'll need to modify the curing time appropriately.
LED light-curing is a safer and faster alternative to UV light-curing since UV rays are harmful to the nails. As a result, an LED nail light resembles a small box containing many
LED lamp beads and a reflector. This light heals your gel manicure in a matter of seconds, with no pain or fuss.
How To Use UV LED Lamps For Curing Gel Nails?
It's straightforward and quick to use a UV LED nail light. Here are the steps to using a UV LED nail light to cure your gel manicure perfectly:
Turn on your UV LED lamp and make any necessary adjustments. For a more efficient manicure, it's best to stick to the suggested parameters.
Place your fingernails under the UV LED lamp for 60 seconds after preparing them and applying the base coat.
To guarantee that your manicure is particularly robust and break-free, you should wait a bit longer with the base coat.
After curing the foundation, apply the layers of color to your nails and paint them to your taste.
Cure your nails for ten to fifteen seconds.
Apply the final topcoat and cure your nails for 60 seconds to secure everything in place once you've finished your creativity.
The Best UV LED Nail Lamps
After painting your nails, it's critical to dry the gel polish. Consequently, you should select a nail light that is well-known for its effectiveness. There are many various UV LED nail lights on the market nowadays, so be cautious while selecting one for your needs. Take a look at the top UV LED lamps on the market to improve your nail game. Have a look!
UV LED Curing Lamp by Easkep
The Easkep UV LED Lamp claims to cure gel twice as fast as other lamps.
The curing lamp's diamond shape and spherical form aid in avoiding light leaking and also speeding up the drying process. It also protects you from any potential injury from extended exposure to the bulb.
The lamp's shape also prevents your skin from darkening. It even protects your hands from the elements.
It has an LCD panel that displays the use time and allows you to adjust the timer to anywhere from 10 to 99 seconds. The light is suitable for use in both the house and the salon.
UV LED Nail Dryer by Jewhiteny
The Whitney Nail Dryer can cure two feet or hands simultaneously. The dryer comes with a giant LCD screen that makes it simple to observe the drying time. The dryer helps you to cure your nails safely and comfortably.
The nail drier also features an automated sensing function, making it more user-friendly and convenient. It is capable of curing all sorts of gel. It's perfect for use at home or in the salon, and it makes a terrific present for friends and family.
The dryer includes a retractable base that makes curing toenails simpler. This removable base also makes cleaning the dryer a breeze. Its open design allows heat to disperse quickly.
UV LED Nail Dryer by LKE
The LKE UV LED Nail Dryer is a portable gadget. It has an easy-to-use design that protects your eyes and keeps your skin from darkening. The nail drier is small and lightweight, making it easy to transport. The dryer also has an automated sensor that allows it to be turned on or off without the need to push any buttons. There are three timer options on the dryer: 30s, 60s, and 99s. It's small and light and simple to clean and use. It is capable of curing any gel nail polish.
UV LED Nail Light by Melodysusie
Melodysusie UV LED Nail Light is a lightweight and ergonomically built portable nail lamp. It's portable and lightweight, hence you can take it with you everywhere you go. The nail light uses low heat to cure your nail paints. It shields your hands from the sun's damaging rays. The light uses less electricity and contributes to energy conservation. The lamp's light beads contain unique technology to cure UV and LED gel nail polishes. Compared to existing UV LED nail lights, the nail lamp promises to reduce cure time by 50%.
Conclusion
Curing gel nails with an LED light might take anywhere from 30 to 60 seconds, depending on the wattage of the light. A typical 24W or 32W bulb will not cure your manicure as quickly as an 80W LED gel nail lamp. Although a 32-Watt LED gel nail light can cure gel nail polishes flawlessly, an 80-Watt nail lamp improves curing time and efficiency, resulting in superior results. A UV LED nail light is superior to a standard UV nail lamp since it cures gel polish nearly three times quicker and offers a smoother, crack-free, and long-lasting manicure. Above all, it protects your nails from potentially dangerous UV radiation.
More Articles On Gel Nails:
(Visited 1,631 times, 1 visits today)