Acrylic Overlay can enhance your beauty, add elegance to your appearance, and even proclaim your status. It is the most sought-after manicure among celebrities, models, influencers, and normal people like us because of its amazing versatile designs.
From simple to extravagant, clean to glamorous, short to really long nails, you can pick any style in acrylic overlay for your natural nails. It also protects brittle nails or abstains nail biters from chewing their nails.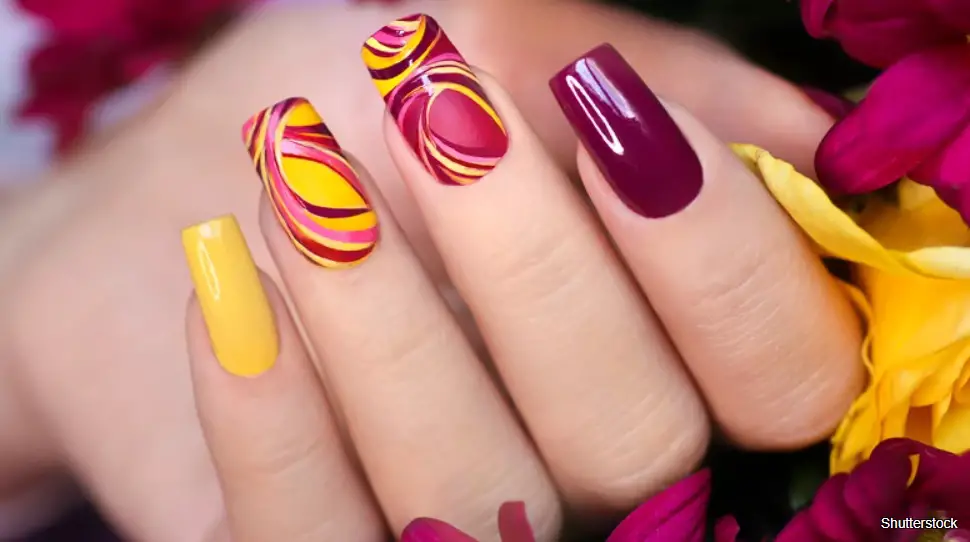 However, manicures have changed in so many manners over the years, to the point that it can be confusing for beginners to know the dos and don'ts of the acrylic overlay.
So, here in this article you will learn and unlearn everything about applying an acrylic overlay, its pros and con, differences with simple acrylic, price, proper technique, and many more.
What Is An Acrylic Overlay?
An acrylic overlay is a defensive coating made of acrylic powders and a liquid monomer applied to the top of the nail. When acrylic cures, it forms a hard shell over the natural fingernail that keeps polish on for 2 to 3 weeks more than natural nails and prevents it from breaking.
Overlays are excellent for adding strength to the natural nail since they are tough and long-lasting. The essential thing is to ensure that you remove them thoroughly. Improper removal might lead to natural nail damage.
Acrylic overlays on natural nails is a nail augmentation in which acrylics are put on top of natural nails that are long enough that nail tips are not required.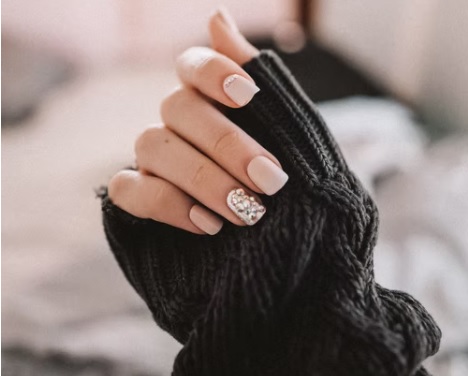 Because they do not have the added thickness of nail tips, acrylic overlay nails have a more natural appearance and are thinner than a complete acrylic set.
People who desire acrylic overlay prefer a natural look anyhow. This powder is used with a liquid monomer to create the overlay.
They harden when exposed to air, forming a protective covering over the original nail. Overlay nails are ideal for those who desire a longer-lasting alternative to gel nails.
Difference Between Acrylic Overlay And Acrylic
Overlay nails are different from acrylic nails in that they do not require a nail extension and instead utilize acrylic powder on your natural nails. In contrast, acrylic nails use acrylic powder on a fingernail extension. So in a nutshell acrylic overlay doesn't use nail extensions but acrylic does.
Below are some crucial differences.
✔️Strength
You can use overlays to strengthen your nails. Experts recommend that after eliminating an acrylic nail, you install an overlay fingernail to enhance your nail bed instead of immediately replacing it. Acrylic nails do not strengthen your nails; instead, they lengthen them and make them more attractive.
✔️ Long-Term Effectiveness
Overlays last three to four weeks, whereas acrylic nails may last anywhere from 4 to 6 weeks based on how well they are cared for.
✔️ Affordability
When compared to artificial nails, overlay nails are less expensive.
✔️ Possibility Of Causing Severe Nail Damage
If you strike your nails forcefully enough on an item, you have a possibility of breaking simply your nails with overlay nails, which seldom result in injuries, but with acrylic nails, your actual nails are more likely to fall off with your artificial nails.
✔️ Options For Length And Form
The length of overlay nails is decided by how long you have grown your nails, but the length of acrylic nails is influenced by how many of the extensions you take off.
Even while overlay nails usually are in a curved form since that's how the fingernails naturally develop, you have a bit more flexibility with shapes with overlay nails because you can softly file your fingernails to your chosen shape.
You can shape overlays into various forms, including silhouettes, squares, pointed, curved, and more.
✔️ A Natural Appearance
Overlay nails, as opposed to artificial nails, provide a more natural appearance since they require fewer ingredients and are placed directly to the natural nails, taking on the length and form of your natural length.
Because it is difficult to achieve a natural appearance with acrylic powder and nail extensions, acrylic nails usually give off an unnatural vibe.
✔️ Removal
Compared to artificial nails, overlay nails are easier to remove.
✔️ Hygiene
Overlay nails are more sanitary since they are generally short and provide no area for bacteria and dust to hide. On the other hand, acrylic nails attract dirt and germs because the height of the nails allows them to hide.
How Long Should Nails Be To Get Acrylic Overlay?
The excellent news is that one can use acrylic overlays on any nail length. You may start dressing your short nails with some fantastic acrylic overlays if you go to the appropriate manicurist. Acrylic overlays do not require a minimum natural nail length to be applied.
You can wear acrylic overlays on even shorter nails because they do not require the connection of any artificial tips to the natural nails. All you have to do now is apply the acrylic overlay correctly to your nails.
Acrylic Overlay On Short And Bitten Nails
An acrylic overlay is a layer of strengthening substance put over your natural nails, with the ultimate length being the same as your natural nails.
The most common difficulty for persons with thin, short, and bitten nails is peeling, splitting, or breaking. These fractures can sometimes proceed further into the nail bed, causing bleeding.
Furthermore, they cannot develop long nails because one or more will break or pull off, resulting in an uneven length of their nails. You can easily avoid these problems by applying a thin layer of acrylic overlay to the natural nails.
How Long Does Acrylic Overlay Last?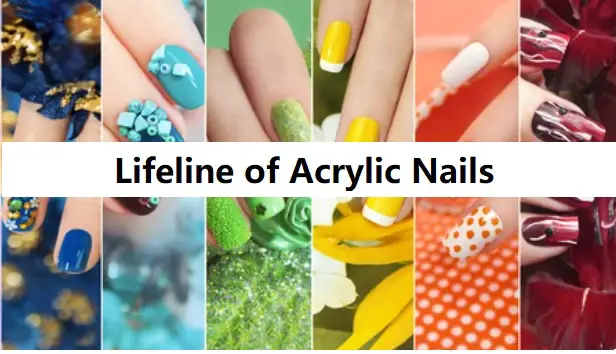 These manicures take a bit longer and cost a little more than standard manicures, but the beautiful thing about them is that you can shape, color, and decorate them in any way you like. If you undertake two to three-week fill-in intervals, the acrylic overlays can last up to 3 months, much as a complete acrylic set.
Is Acrylic Overlay Healthy?
Yes, acrylic overlays are usually healthy. An acrylic overlay will have the same negative impacts as an acrylic complete set. You'll know how to take care of your acrylic overlay if you know how to care for your complete acrylic sets.
The weakening of natural nails due to sanding or polishing is one of the most typical drawbacks of acrylic overlays. After removing an acrylic overlay, your nails may become dry and brittle. These are known drawbacks of acrylic overlays; however, they are only transitory. Natural nails will grow to normal in two months if you remove your acrylic overlays.
Pros And Con Of Acrylic Overlay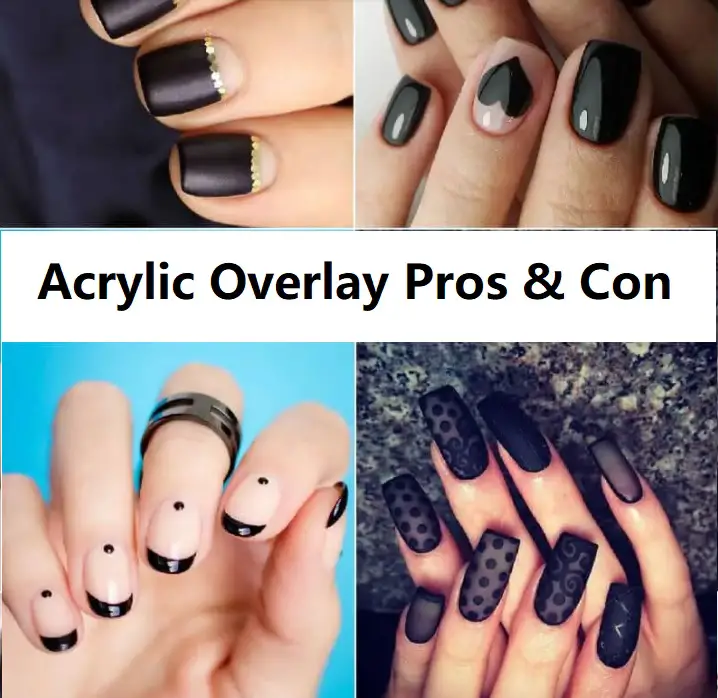 Here are some reasons to think about obtaining an acrylic overlay:
📌Offers Protection
It protects natural nails against enamels and other substances that might harm them. However, you should be cautious when removing them to avoid damaging the same things you're attempting to preserve.
📌Nails Are Tough And Long-Lasting
You don't have to change them regularly; all you have to do is maintain them every 15-20 days, depending on how quickly they develop. Experts feel that accomplishing this is not difficult.
📌 Various Forms Are Available
You don't have to worry about forms because you can give them any shape or length, and you can even decorate the overlays to make them into an artistic masterpiece.
📌 Obtainable At A Low Cost
Acrylic overlays are not as pricey as the luxury they provide, which may surprise you. They're something you can purchase for a reasonable price from a decent beauty store.
📌 They're Simple To Get Rid Of
Another advantage is that you may quickly remove them without the assistance of a professional anytime you are no longer interested in wearing them.
Here are a few disadvantages of acrylic overlays to bear in mind:
Because the installation of acrylic overlays includes chemicals and fumes, pregnant women should avoid them at all costs.
Allowing acrylic overlays to touch the skin may result in allergic reactions and dermatitis. As a result, you must treat them with care.
If you don't want this to happen to you, stay away from filthy salons. You'd be in danger of fungal infections as a result of them.
It Has The Potential To Harm Your Natural Nail
Acrylic overlays can cause harm to your natural nails if they are applied and removed incorrectly. As a result, you should always hire a skilled specialist and never consider acrylic overlay a do-it-yourself project.
How Is Acrylic Overlay Done?
The acrylic overlay should be applied in the following manner by a Manicurist:
The First Step Would Be To Prepare The Nails
The first thing your manicurist would do is clean them. It would aid in creating a smooth surface for the acrylic materials.
🎯Trim
Your manicurist will cut and file them here, leaving a few millimeters of nail space.
🎯 Buffing Your Nails
Your manicurist would polish them after clipping them to make the surface a little rough. It will help the acrylic substance adhere to your nail better.
🎯 Prime Your Nails
The manicurist will use a nail primer to eliminate the moisture and oil at this point. The nail is cleaned with cotton swabs soaked with acetone before placing the primer.
🎯 Applying It On The Nail Tips
Manicurists will file the nails appropriately here and add glue to your natural ones.
🎯 Gather Your Acrylic Supplies
They will place the acrylic overlay ingredients like acrylic liquid and acrylic powder in separate dishes. Because these materials may be intense, manicurists usually do this in a well-ventilated location.
🎯 Take A Look At The Acrylics
After preparing all of the supplies, your manicurist will pick up the Acrylics with the brush. They do this by soaking the brush into the fluid and applying it to the powder to make a wet ball. It is the substance utilized to produce the overlay on the nail.
🎯 Application
After selecting the Acrylics, your Nail technician will apply the mixture to the nails while smoothing it out.
🎯 Allow Time For It To Dry
They're ready to use, but they'll need to dry for approximately 10 minutes. This step may be done using a nail drier.
🎯 Finishing Touches
After the nails have dried, your manicurist will file them to make them smooth.
Cost Of Getting Acrylic Overlay
Acrylic overlay treatments are usually of the same rate as acrylic complete sets in most nail salons. Even if manicurists do not use nail tips, molding acrylic overlays take longer since natural nails are not always flawless or even in shape. A regular set of acrylic nails in a spa or salon costs between $35 and $45 for a mid-range set. This price can rise to $50 or $60 for hues like pink or white.
❤️Popular Celebrity With Acrylic Overlays❤️
These celebs know that acrylic overlays look great on them, so even if they don't wear them all the time, they've been seen wearing them frequently enough.
Dua Lipa
Dua Lipa has shared some of her acrylic overlay sets on social networks for her followers to adore since she doesn't mess around with acrylic nails. She always goes above and above, and it's always amazing! Dua Lipa is the sort of musician that sticks out in a crowd, and she makes sure her nails contribute to that.
Lady Gaga
Lady Gaga's aesthetic is complete with acrylic nails. Her fashion sense is frequently wild, wacky, and quirky. The clothes she wears may be rather striking at times! Who can forget the day she donned a garment made entirely of me?! Her nails are always a little more edgy and crazy than the norm. Lady Gaga is more likely to be seen with a plain manicure color than a wild nail design.
Zendaya 
Zendaya has been sporting acrylic overlays for a while now! She was even wearing overlays on the Disney Channel, appearing in KC Undercover. They are unquestionably a part of her signature look, and she understands how to wear them elegantly.
Billie Eilish
Billie Eilish is a big fan of acrylic overlays, especially while she's performing or walking the red carpet. Her acrylics aren't designed to seem natural or realistic. She has gotten them for a very long time! Billie Eilish's acrylic overlays give her a whole new look. Whether she's wearing plain black acrylic overlays or making a bold statement with bright green, she always cares about making it look amazing.
Kylie Jenner
Kylie Jenner is unmistakably the plastic princess. She's had her acrylic overlays done regularly for years, and she constantly uploads pictures of her new set on Instagram and Snapchat. Diehard Kylie Jenner followers, interestingly enough, want to keep up with their very own manicure depending on whatever photo Kylie Jenner shares. Her acrylic overlays are generally lengthy, but the colors are continuously changing.
🎯Beginner's Kit For Doing Acrylic Overlay At Home
What is the most crucial aspect of at-home acrylic overlays? Obtaining the necessary equipment and supplies to complete the task. You may save a lot of time using an acrylic overlay kit instead of doing all of the shapings and filing yourself.
Experts advocate creating acrylic overlays using a kit if you're new to overlays since it's a quick and easy method to replicate the impression of acrylics and obtain a flawless finish with everything already on hand. Everything you'll need for the whole manicure is available in the box, along with explicit step-by-step directions on how to utilize it all. 
The products included in acrylic overlay kits are:
Cuticle Pusher
Nail File & Buffing Block
Nail Prep/Dehydrator
Nail Primer
Dappen Dish
Acrylic Nail Brush
Lint Free Wipes
Acrylic Powder
Acrylic Liquid 
Top Coat
Cuticle Oil (optional)
Pinching Tool (optional)
Manicure Brush (optional)
The following top 3 Easy To Use At-Home Acrylic Nail Kit For Beginners:
If you want a kit that's a bit more advanced than a basic nail kit, it is the nail kit for you. Twenty acrylic nails, clear acrylic powder, super rapid nail adhesive, swift zebra flat nail file, nail brush, nail cutters, emery block, and primer are available in this set. It's ideal for someone seeking a bit more quality beginner's kit that includes everything they'll need. If you're a newbie, it's a good idea to get a bit of additional monomer with the product because many reviewers claim that the amount included is insufficient. It's one of the finest nail kits for newbies.
It is the kit for you if you want parlor-style treatment for a fraction of the cost of a parlor visit. It is a beautiful value combo box if you're looking for an excellent acrylic nail kit to present to someone who enjoys making their nail art. Expert stylists and DIY nail art enthusiasts will like these DIY acrylic nail kits. These acrylic nails are long-lasting and will offer you a trendy look for a long time.
This acrylic nail painting kit's beautiful packaging makes it ideal for Valentine's Day present for your lover. You might also surprise your mum by giving her this fantastic item. The contents are created from high-quality materials and are incredibly long-lasting and sturdy. You can rely on this package to spruce up your coffee table and catch everyone's attention. This acrylic nail art kit will give you long-lasting sparkling tip nails. This monomer is free of any hazardous MMA elements, ensuring that your nails do not yellow or discolor in any way.
What To Ask For To The Nail Tech Before Getting Overlay?
You can request an acrylic overlay if you don't want a nail tip glued to your natural nails. Request that the acrylic powder is applied just to your natural nail. Your nails will become firmer as a result of the acrylic.
Is Acrylic Overlay The Same As Dip Powder?
According to celebrity nail artists, both dip powder and acrylics are nearly identical, but acrylic overlays are more time-intensive, expensive, and stay longer. Dip nails can survive up to four weeks, but acrylic overlays only last two to three weeks without needing a touch-up at the salon.
Finally: Should You Consider Getting Acrylic Overlay?
Acrylic Overlay may assist in completing your style, demonstrating your sophistication, improving your beauty, and conveying your wit. Fortunately, they are inexpensive, simple to use, and last longer than artificial ones. However, it might harm your natural ones and create difficulties if you utilize this overlay incorrectly. You must always seek the assistance of a skilled manicurist or follow the instructions as given in your at-home acrylic kit.
More Articles On Acrylic:
(Visited 928 times, 1 visits today)